Frog's Breathtaking Speech

The Story
Frog is very worried as he has a very important speech to make at his school assembly. The speech is about breathing and he doesn't know a thing about it!
He asks his friends for help and they teach him all about the lion breath, the crocodile breath, the humming bee breath and the woodchopper breath. Can any of these breathing techniques calm his nerves before the big speech?
How does this help children?
This charming illustrated picture book teaches children four yoga breathing techniques in a fun and interactive way. The story successfully increases children's awareness of their breath and shows how breathing can be used to deal with anger, anxiety and tension.
Can Non -Yoga People use Frog?
School teachers will find the postures and breathing techniques simple to teach and will enjoy their introduction to the fascinating subject of breathing. Children's yoga teachers will broaden and enrich their teaching and will save hours of planning

How did the story come about?
I have been using Frog's Breathtaking Speech in children's yoga lessons for many years. The story grew out of the need to increase children's awareness of their breath and, more importantly, how to apply it in stressful situations. Situations such as dealing with exams, spelling and table tests, being bullied, tension, headaches and anger, and of course performing or presenting to their peers and parents in assembly.

Where does Frog fit in the school timetable?
The story can easily be integrated into your provision for self -esteem enhancement, for example, SEAL, PSHE or Circle Time in the UK.
RRP: £12.99/$19.95
HARDCOVER 216 x 279mm/8.5 x 11inches, 48 pp
ISBN: 978-1-84819-091-7
You can buy Frog, personally signed by Michael Chissick, at £12.99

For your piece of mind we offer our Guarantee of Quality. This means that if you are not completely satisfied with the quality of

Frog's Breathtaking Speech

you can return it in good condition and we will give you your money back.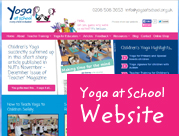 Additional Children's Yoga Services and Help

Articles, Case Studies and Yoga Games
Keep up the good work by signing up to our regular email letter giving you stirring articles, thought- provoking case studies and bold new ideas for children's yoga.