Ladybird's Remarkable Relaxation

From the author and Illustrator ofFrog's Breathtaking Speech comes this delightful new book.

Written by Michael Chissick and beautifully illustrated by Sarah Peacock, this book will be an excellent resource for teachers and teaching assistants in both mainstream and special needs schools, yoga instructors, and parents looking for a fun and engaging story to teach their children about coping with difficult emotions.
Story
Frog, Dog, Flamingo and Dragon are all very upset – Frog has too many chores to do, Dog has writer's block, Flamingo is being bullied at school and Dragon's granddad has just died. Ladybird listens to their worries and comes up with a plan that will help them all – let's learn Ladybird's Remarkable Relaxation!
This beautiful picture book teaches an effective yoga relaxation technique that can be used anywhere and anytime to deal with a problem. Tiny Ladybird flutters softly from big toe to knee to thumb and onwards around the body , showing children how to focus their attention and calm their thoughts. Whether they feel stressed like Frog, or lack confidence like Dog, children will relate to the cast of delightful characters and learn that they too can use relaxation to cope with anxiety, bullying, or grief, and face their worries.

For your peace of mind we offer our Guarantee of Quality. This means that if you are not completely satisfied with the quality of

Ladybird's Remarkable Relaxation

you can return it in good condition and we will give you a full refund.

Like our Ladybird's Remarkable Relaxation page on Facebook...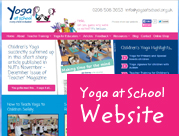 Additional Children's Yoga Services and Help

Articles, Case Studies and Yoga Games
Keep up the good work by signing up to our regular email letter giving you stirring articles, thought- provoking case studies and bold new ideas for children's yoga.