Top Five Sequence Games

Including Sequences in your children's yoga lessons means that you will bring all manner of benefits to the children.
Here are my TOP FIVE SEQUENCE games, which are called:
Yoga Detective 1, Yoga Detective 2, Yoga Detective 3, Chase the Frog and Weather Game.
You can download these five favourite sequence games now for £8.99 in one go.
They have been developed, tried and tested over many years across all age ranges. I can guarantee you that the children will love them all and will be fully engaged - or your money back
Benefits:This is a 'must' for you, because you will:
Save hours and hours of planning
Enjoy amazing value at £8.99 for five games
See the children enjoying sequences and being on task
Be proud of the improvement in the quality of your teaching
Get great feedback from Heads and Staff that employ you

For your peace of mind we offer our Guarantee of Quality. This means that if you are not completely satisfied with the quality of the Yoga Games we will give you a full refund.
I would strongly advise that you buy the appropriateSun Sequence Poster (or Posters) to compliment the Yoga Games.
©Copyright Michael Chissick and Yoga at School Ltd 2013. Neither text nor illustrations to be copied or reproduced or distributed without permission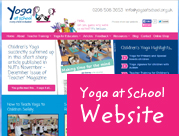 Additional Children's Yoga Services and Help

Articles, Case Studies and Yoga Games
Keep up the good work by signing up to our regular email letter giving you stirring articles, thought- provoking case studies and bold new ideas for children's yoga.