Sun Game (Code: SS3)

Sun Game is a sequence that has been developed specifically for children with autism from Early Years , KS1 & 2.
TOP TIP: Best practised in chairs
It succeeds because a child with ASD is generally happier and more engaged working from the security of their chair in the yoga lesson. More so than a yoga mat. Repeated practice will produce stunning results.
Of course this sequence is suitable and safe for ALL children. I have used it unsparingly with all Special Needs Children including those with:

Autism/Aspergers
ADHD
Cerebral Palsey
Children who find it difficult to stand or take weight through their legs
This poster will also be a rich resource to:
Primary school teachers,Teaching Assistants, and Special Needs Workers
Parents who want to encourage their children to practise yoga.
Specialist Children's Yoga Teachers.
You do not need any prior yoga knowledge to teach any of the postures or sequences.
A2 Printed Poster

The posters are colourful, beautifully illustrated and easy to follow.
Available in A2 (420mm x 594mm) and printed on top quality Silk Art and laminated for a longer life.
Priced @£15.99 each + postage
Download Available
This poster is available as an A4 Downloadable version

For your peace of mind we offer our Guarantee of Quality. This means that if you are not completely satisfied with the quality of your

Sun Game

poster, you can return it in good condition and we will give you a full refund.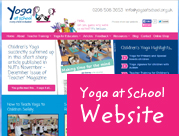 Additional Children's Yoga Services and Help

Articles, Case Studies and Yoga Games
Keep up the good work by signing up to our regular email letter giving you stirring articles, thought- provoking case studies and bold new ideas for children's yoga.