How to Teach Yoga to Children Safely

Common Sense guidelines for teaching yoga to nursery & primary children safely
This short, easy-to-read article will explain:

How yoga compares to other physical activities in school in terms of risk
Which postures are most risky
How to make a simple risk assessment chart
The ideal lesson length
The safest place to teach
Here are THREE reasons why you must read this article:

Understanding how to teach yoga safely to children is your top priority
Schools will be impressed that you are able to allay any fears about risks
This adds to your professionalism and credibility and will increase your chances of securing work in schools.
The article is short, straight to the point, non technical and from someone who has been teaching yoga to children in schools for nearly two decades.
At £8.99 this information and guidance is worth its weight in gold

For your peace of mind we offer our Guarantee of Quality. This means that if you are not completely satisfied with the quality of this Article we will give you a full refund.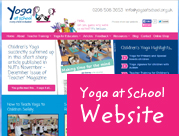 Additional Children's Yoga Services and Help

Articles, Case Studies and Yoga Games
Keep up the good work by signing up to our regular email letter giving you stirring articles, thought- provoking case studies and bold new ideas for children's yoga.