Sitting Sun Sequence (Code: SS4)

Sitting Sun Sequence was developed for children who have difficulty standing, but who still want to be challenged and like physical activity. For example it will be ideal for children with Cerebral Palsy.
I also use it as a change of routine to Standing Sun Sequence (SS2) because it presents a different set of challenges to the children
TOP TIP 1: I tend to use this sequence straight away after lunch because there is less compression on the tummy
TOP TIP 2: Have this sequence up your sleeve for those times when someone in class has a leg injury. Admiring staff will see you as the children's yoga teacher that can adapt to any situation.
You do not need any prior yoga knowledge to teach any of the postures or sequences.
A4 Downloads
You can download immediately and laminate
The posters are attractive, colourful and simple to follow
Priced @ £8.99 each. NO postage involved
Printed Version Available
This poster is also available as and A2 printed and laminated version.

For your peace of mind we offer our Guarantee of Quality. This means that if you are not completely satisfied with the quality of your Sitting Sun Sequence poster we will give you a full refund.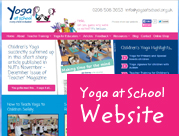 Additional Children's Yoga Services and Help

Articles, Case Studies and Yoga Games
Keep up the good work by signing up to our regular email letter giving you stirring articles, thought- provoking case studies and bold new ideas for children's yoga.