Memory Game

An easy-to-play memory game for children where the goal is to match different pairs of posture card and then perform the posture.
This game will help children improve their concentration, memory and observation skills as they try to remember the position of each pair.
There are 18 pairs of postures that when practised regularly will help increase flexibility, fitness and coordination.
Available as a download @£8.99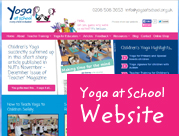 Additional Children's Yoga Services and Help

Articles, Case Studies and Yoga Games
Keep up the good work by signing up to our regular email letter giving you stirring articles, thought- provoking case studies and bold new ideas for children's yoga.