Matching Game & Umbrella Game & Bean Bag Game

Thank you for buying Sitting on a Chicken.The Best EVER 52 Yoga Games to Teach in School
Here are the A7 posture cards that you will need for Matching Game, Umbrella Game and Bean Bag Game.

YOUR DISCOUNT If you have purchased Sitting on a Chicken (or are lucky enough to be given a copy) you can use the discount code which you can find in the resources section of the book to claim your discount.
If you have not bought the book, you'll need pay full price....sorry. Or you could buy the book and claim back discount afterwards.
MAKE YOUR OWN OR BUY MINE? You can make your own Posture Cards or you could save yourself a lot of time and energy by buying these. They have been developed specifically for Matching Game, Umbrella Game and Bean Bag Game.
You can download, print and then laminate at school or home. That way they will last for ages.

The cards have been beautifully illustrated by Sarah Peacock, who also illustrated the posture cards and the book Sitting on a Chicken.
DOWNLOAD CONSISTS of 2 sheets of A4. Each A4 sheet contains 8 x A7 posture cards. The best thing about downloading is that if you lose or damage one of your cards you can print off a new one immediately.
PRICE The download is £8.99 (Less your discount for buying Sitting on a Chicken)
GUARANTEE For your peace of mind we offer our Guarantee of Quality. This means that if you are not completely satisfied with the quality of your Posture Cards we will give you a full refund.

HEALTHY WARNING: You will never, ever teach children's yoga again without your Posture Cards ever again, ever!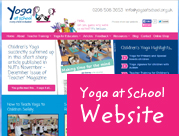 Additional Children's Yoga Services and Help

Articles, Case Studies and Yoga Games
Keep up the good work by signing up to our regular email letter giving you stirring articles, thought- provoking case studies and bold new ideas for children's yoga.