Essential Information on 30 Children's Yoga Postures

Essential postures notes help you understand what the postures do in terms of muscles and joints.They also guide you to postures that help develop concentration, perseverance and self control.
All 30 postures are covered.
Booklet consists of 18 pages.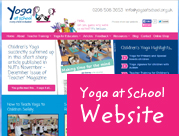 Additional Children's Yoga Services and Help

Articles, Case Studies and Yoga Games
Keep up the good work by signing up to our regular email letter giving you stirring articles, thought- provoking case studies and bold new ideas for children's yoga.