SPECIAL OFFER! Packs 2 & 3

You will save £5 if you buy packs 2 & 3. If you want to save £20 go to the NO-BRAINER page.
You will be buying the following 20 postures cards:
Candle, Crab, Dog, Dragon, Flamingo, Flower,


Frog, Bow, Dancer Dragonfly, Curly Whirly, Elephant Sitting,


Hero 1, Hero 2, Hero 3, Slide, Tiger, Sitting Stick, Gate and Eagle.


Available to download NOW for you to print and laminate at school or home:


Each download will consist of 10 sheets of A4. Each A4 sheet contains 2 A5 posture cards.

HEALTHY WARNING: You will never, ever teach children's yoga again without your posture cards ever again, ever!
Four reasons why the posture cards will improve your teaching :
1.They are simple to follow - you can see immediately what the posture looks like

2. The illustrations are child-friendly

3. You can use them with children from 3 - 11 years old

4. Essential for special needs children and children with english as second language
Read the full article: How Posture Cards Improve the Quality of Your Teaching
"The best thing about downloading is that if you lose or damage one of your cards you can print off a new one immediately".






For your peace of mind we offer our Guarantee of Quality. This means that if you are not completely satisfied with the quality of your Posture Cards we will give you a full refund.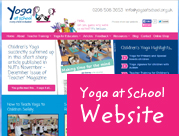 Additional Children's Yoga Services and Help

Articles, Case Studies and Yoga Games
Keep up the good work by signing up to our regular email letter giving you stirring articles, thought- provoking case studies and bold new ideas for children's yoga.