Seahorses Magical Sun Sequences

This beautiful picture book teaches four Yoga Sun Sequences in a fun and interactive way. The simple sequences benefit all children, while ensuring that anyone with inflexibility, autism, disability or injury can join in the fun. With specific advice for individual needs, this is an excellent resource for educators, yoga instructors and parents hoping to promote inclusion, positivity and confidence in all children aged 3-11.
The Story
The Starfish Brothers, Eel, Crab and Octopus are having a horrid time. The Starfish Brothers' backs are stiff as planks, Eel is in a wheelchair and feels excluded, Crab finds it hard to play with others, and highly-competitive Octopus is on crutches after a pole-vaulting accident. Luckily, Seahorse adapts her Magical Yoga Sun Sequence to suit their individual needs, helping them to be active, included, and much happier!
Hardback 2015, 8.50in x 11.00in / 216mm x 279.4mm, 48pp
ISBN: 978-1-84819-283-6
Published by: Jessica Kingsley Publishers
FREE teaching resources!
The FIVE sequences featured in Seahorse are available for you to download for FREE when you buy the book or if you have the book already. The RRP for the five posters is £12.50 ...so I hope you agree that's a good saving.
Having the posters up on the classroom or bedroom wall will link nicely to the stories as well as encouraging your children to practise Sun Sequence.
It's simple. When you recieve your book go to page 48 and look for the link for FREE SUN SEQUENCE POSTERS. Answer a couple of simple questions and the downloads are yours.
They are beautifully produced, colourful, clear and will look great on the classroom wall. Would you like a peek?
What do respected and experienced Yoga Teachers say about Seahorse?
"I loved Seahorse's Magical Sun Sequences! Whether you're a crab who doesn't like to move or speak much, an eel in a wheelchair or a child on crutches, Seahorse will have a Magical Sun Sequence for you. Sarah Peacock's vibrant illustrations combine with the measured anticipation and repetition of Michael Chissick's stories to create an irresistible urge to do yoga. It is more than a little bit magical: it is completely spell-binding.'
Wendy Teasdill, Diploma Course Tutor for the British Wheel of Yoga, author of Walking to the Mountain and Yoga for Pregnancy
"What a delightful way to introduce the benefits of yoga to children of all abilities. Everyone succeeds in this informative and practical book. With a positive repetitive message throughout, there are shades of Kipling's Just So Stories. For anyone considering teaching yoga to children, this book is a must have."
Bob Insley, British Wheel of Yoga Yoga Teacher and Teacher Trainer
'Michael Chissick and Sarah Peacock's winning formula produces another super-simple, completely practical and totally inclusive yoga book for children. Seahorse's Magical Sun Sequences is a delightful introduction to the world of sun salutations and how you might adapt them to be a practical, imaginative way of moving into your body and feeling more at one with yourself and your environment.'
Tara Fraser, Director of Yoga Junction and author of 'Yoga for You' and 'The Easy Yoga Workbook'
"I love the characters that Seahorse meets in this book. With superb illustrations by Sarah Peacock, this will be a valuable teaching aid for teachers who wish to develop movement and yoga in their classes, as well as parents who can learn the sequences alongside their children. It is clear, easy to follow and fun!"
Andrea Kwiatkowski, BWY Diploma Course Tutor, Senior Yoga Alliance Teacher and Advanced Jivamukti Teacher
'I love the way that Seahorse celebrates differences and shows ways for everyone to be included in the yoga. I am convinced that this book will encourage children, ranging from Kindergarten to 10/11 year olds, to develop compassion and tolerance for others who may be less able; which in turn will lead to more peaceful relationships. Michael's knowledge of how to engage children in yoga, especially children with Special Needs, shines through; while Sarah Peacock's beautiful illustrations bring the story to life.'
Petra Proßowsky, children's yoga teacher and trainer, Germany
What do Educators say about Seahorse?

'This lovely story, alongside its beautiful illustrations and well-explained diagrams, brings yoga to children of all abilities in a fun, joyful and accessible way. I have been lucky to witness how this exercise can build a child's self-confidence, awareness and language. If you are a teacher or parent interested in yoga for children, this beautiful story will provide an excellent start.'
Jennifer Watson, Teacher (Early Years and Key Stage 1)

"Seahorse's Magical Sun Sequences is a marvellous resource for parents and teachers who want to support every child to access yoga in a fun and engaging way. The charming characters bring the sun sequences richly to life and will appeal to children everywhere. This is a book I will be proud and excited to recommend to schools, parents and colleagues. If you want to instil a lifelong love of yoga in all children, this is the book you have been waiting for."
Catherine McNerney, Assistant Head, Phoenix School, London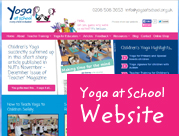 Additional Children's Yoga Services and Help

Articles, Case Studies and Yoga Games
Keep up the good work by signing up to our regular email letter giving you stirring articles, thought- provoking case studies and bold new ideas for children's yoga.