Sun Sequence: Starfish Bros

The sequence has been developed for children who are stiff and a little inflexible. This poster shows the sequence that Seahorse teaches The Starfish Bros on Page 17 of the book.
The posters are beautifully produced, colourful, clear and will look great on the classroom or bedroom wall.
Download is available in A3 (297 x 420mm) . Your download consists of 2 x A4 (210 x 297mm) sheets. You print, trim, stick 'em together and pop 'em on the wall. Easy-Pezzee

It's £5.00 to buy this poster, but if you click here you can buy all FIVE posters from Seahorse's Magical Sun Sequences for £12.50 which is a tidy saving.
Even better!! When you buy Seahorse's Magical Sun Sequences you can have them for FREE. Read More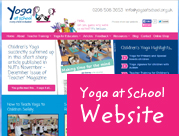 Additional Children's Yoga Services and Help

Articles, Case Studies and Yoga Games
Keep up the good work by signing up to our regular email letter giving you stirring articles, thought- provoking case studies and bold new ideas for children's yoga.