NO BRAINER: All 5 Posters for £12.50 or FOR FREE!

All five simple sequences benefit all children, while ensuring that anyone with inflexibility, autism, disability or injury can join in the fun.
The posters are beautifully produced, colourful, clear and will look great on the classroom or bedroom wall.
Download is available in A3 (297 x 420mm) . Your download consists of 2 x A4 (210 x 297mm) sheets. You print, trim, stick 'em together and pop 'em on the wall. Easy-Pezzee

GOOD NEWS! Buying the FIVE posters you are saving £12.50
Even Better News!! When you buy Seahorse's Magical Sun Sequences you can have them for FREE. Read More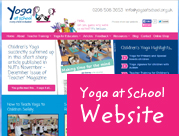 Additional Children's Yoga Services and Help

Articles, Case Studies and Yoga Games
Keep up the good work by signing up to our regular email letter giving you stirring articles, thought- provoking case studies and bold new ideas for children's yoga.