File Download: Posture Cards Notes Sample
You have selected our PDF File Posture Cards Notes Sample to download.
You may need to download Adobe Acrobat Reader to view this file. You can download this small program from Adobe by clicking here.
Please complete the small form below to gain access to this file.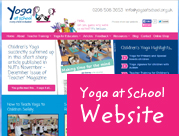 Additional Children's Yoga Services and Help

Articles, Case Studies and Yoga Games
Keep up the good work by signing up to our regular email letter giving you stirring articles, thought- provoking case studies and bold new ideas for children's yoga.